There are about 70,000 taxis in Beijing, which are reasonably priced and well managed. You can easily find a taxi on the road. Hyundai Elantra and Sonata are the main taxi models in Beijing. Besides, there are also some taxis from Volkswagen Jetta and Citroen Fukang. Like many Chinese cities, Beijing is promoting taxis that run on new forms of energy. It is estimated that by the end of 2020, the number of electric taxis in Beijing will reach 20,000. Taxis in Beijing are colorful, usually with a yellow body and a dark blue, green or purple roof. Regular taxis have been equipped with uniform standard overhead lights. One type of taxi is imprinted with "Beijing" or the company's abbreviation on the front of the overhead lights, and the words on the overhead lights are consistent with the door signs. The other type is taxis with an overhead light imprinted with "model taxi". The meter is placed above the console, the green triangle anti-counterfeit electronic tag is installed at the upper center of the front windshield of the car, and the service supervision card (with the company's service supervision telephone number on it) is installed on the instrument panel in front of the passenger's side. Without these things, the taxi may be unlicensed, and even if the driver invites you to board the car, you should refuse. Taxi drivers in Beijing are hospitable, but they may not speak English. Therefore, it is best to write or print the destination name in Chinese.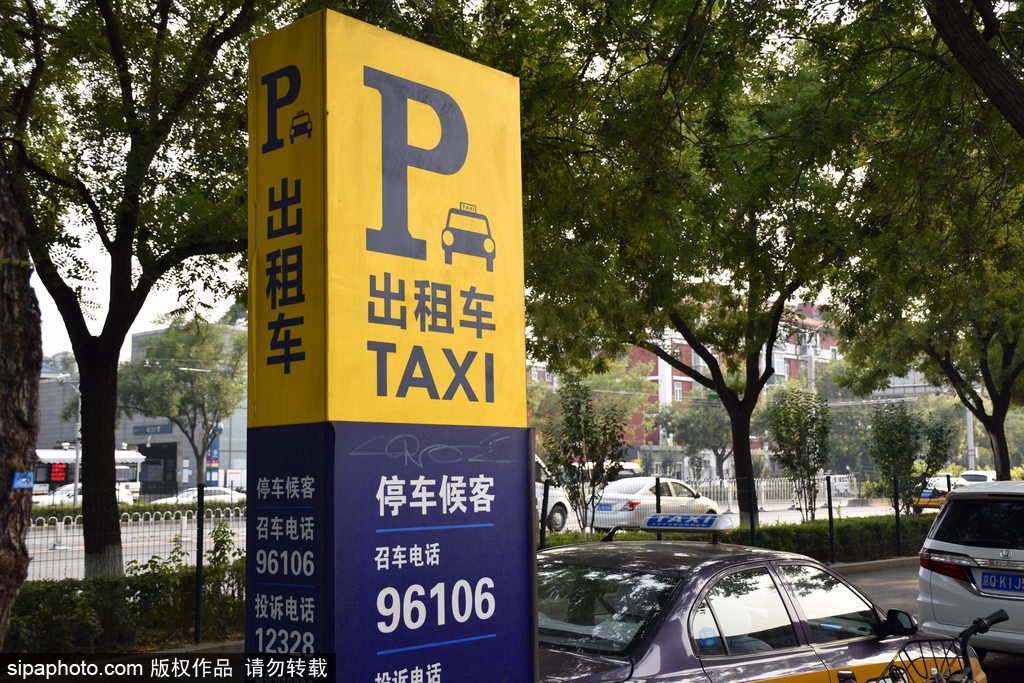 Standards for Beijing taxi fares

For distances within 3 kilometers, CNY ¥13 is charged. For distances over 3 kilometers, an additional CNY ¥2.3 is charged per kilometer.

Fuel surcharge: CNY ¥1/transportation (excluding electric taxi);

Empty-loaded fares: When the passenger asks to stop and wait or when the speed is less than 12km/hour due to road conditions, an additional fare pegged to 2km (excluding the empty-loaded fare) will be added for every 5 minutes during the morning and evening peak period, and the additional fare pegged to 1km (excluding the empty-loaded fare) will be included for other non-peak time periods. If a one-way passenger travels for more than 15 kilometers, there will be a 50% surcharge on the basic unit price, and the round-trip passenger (that is, the starting point and the end point are within 2 kilometers (inclusive) will not be charged the empty-loaded fare.

Booking service fee: For appointments more than 4 hours in advance, service fee costs CNY ¥6 per journey. For appointments less than 4 hours in advance, each service fee costs CNY ¥5.

Charges at night: When operating from 23: 00 (inclusive) to 5: 00 (exclusive) the next day, there will be a surcharge of 20% on the basic unit price.

Taxi sharing charges: For passengers on shared rides, they should pay 60% of the amount that would have been payable in the case of a non-shared ride.

Remarks: The morning peak period is from 7:00 (inclusive) to 9: 00 (exclusive). The evening peak period is from 17:00 (inclusive) to 19: 00 (exclusive). The mileage of the taxi pricing section is accurate to 500 meters and the time is accurate to 2.5 minutes. The settlement of taxi charges shall be in yuan, and fares digits after yuan shall be rounded off. Tolls and bridge fees shall be borne by passengers.

Booking Call: (8610)96103, (8610)96106 for taxi service.

Tips

1. Don't try to hail a cab at a crossroads, as taxi drivers cannot stop their cars within 30 meters from an intersection to pick up passengers.

2. Smoking is banned from all Beijing taxis.

3. Taxi drivers are not allowed to refuse to take passengers for any reason, once the passenger is in the car. When cabbies refuse to drive you to the destination you want, you can make a complaint call at (8610)96103 or (8610)96106.

How to hail a taxi in Beijing

1. Hail a Taxi by Hand Signal

Stand by roadside or at a designated taxi stand in Beijing and wave down a cab. Avoid intersections; otherwise, the driver won't stop. Do not do it at the Ring Roads, urban expressways, and highways.

2. Booking a taxi

3. Online Car-Hailing Apps: Didi, Dida, Meituan...

Payment: Wechat, Alipay, UnionPay……