Speaking about the Liangshui River at Yizhuang, its impression on old Beijingers is a stinking ditch and a large waste land. Now, it's changed into a forest oxygen bar with a length of 11 kilometers and an area of 106 hectares.

The 90% afforestation rate of the Yizhuang Binhe Forest Park is held by 40,000 arbor plants, 160,000 shrub plants and 270,000 square meters of herbaceous plants. These plants make the park an oxygen bar. A deep breath can make us feel the sweetness of the air which is a bit chilly in autumn. Walking leisurely either along the river or in the forest, either in the day or in the evening, and seeing the leaves falling apart from the tree will give a wonderful experience in the park.

The forest park is built along the river with a special cycling track 11 kilometers long and 4.5 meters wide. Under the blue sky and white clouds, among the green grass, the cycling track is like a red ribbon, connecting all the sceneries in the park along its winding way. A cyclist will feel in a forest if not reminded by a tall building in the distance. In particular, the cycling track is arranged along the river bank and has been facilitated with a special and interesting section to make cycling fun.

The entire park is not only green, but contains a lot of technological designs. Along the 11-kilometer-long cycling track, 3 replenish stations are facilitated on both sides. When cyclists and walkers get tired, they can stop and have a rest here. The seats look nothing special, they are facilitated with solar energy and a socket to allow charging the cellphone. Using the Bluetooth on the phone can connect with the audio device on the seat. WiFi access is available for free at every corner of the park.

On both sides of the greenway are post houses in which are monitors for a dozen key sections and rescue tools for an emergency.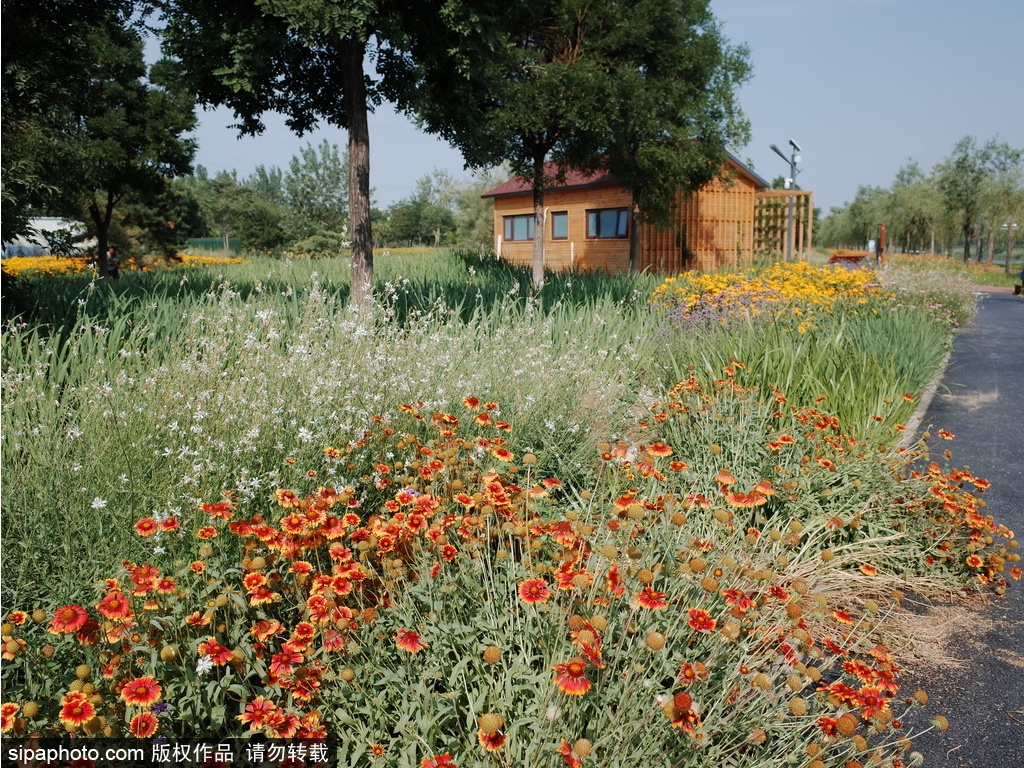 Riding along the river, you will find a small button on the lamp-post in certain distances. Near to the button are cameras and trumpets. If there is any emergency when riding or walking, you just press the button to send a signal to the command center near the river who will offer aid immediately. This provides meticulous safety and protection for cyclists.

Location: Yizhuang New Town, Daxing District 大兴区亦庄新城

Transportation Guide: take Bus 665, Xing 16 or Bus 846 to Tianbao South Street, transfer to Yuntong 115 to Yizhuang Branch of Beijing Tongren Hospital, then walk 554 meters